The Retro Wagon collection made it's first public appearance this past Saturday Eight October 2016 at Desert Code Camp 2016 at the Chandler-Gilbert Community College.
Lot's of folks stopped by between sessions and during lunch. It was a pleasure to share my collection of late 70s to early 80s computers from the dawn of the personal computer era. I had never seen the collection displayed at the same time. It was a pretty good sized room, I was able to display about 75% of my collection.
This is the view as you walk into the room.
It was getting right down to the wire if we would be able to get one more room at Desert Code Camp for the RetroWagon collection, but CGCC came through. Here are a few tweets the night before and day of the code camp.
@jhalbrecht Is bringing his retrowagon (https://t.co/t7SYOZzWdy) to Desert Code Code. Ex:
Circa 1975 ACSII Line Printer Calendar #dcc16 pic.twitter.com/LG701OREeQ

— DesertCodeCamp (@DesertCodeCamp) October 7, 2016
https://t.co/784Kz8jcLB at @DesertCodeCamp gets some media attention… #dcc16 pic.twitter.com/8givuYCbZj

— Eileen Kane (@EileenMKane) October 8, 2016
If you thought Compaq had the first "portable" computer think again. See @TheRetroWagon's Osborne 1. #DCC16 pic.twitter.com/QFalnchO8z

— Jim St. Leger (@JimStLeger) October 8, 2016
And a few more angles on the tables and walls. There is a Teletype model 33 ASR connected to an Altair 8800b.
Some Apple and Radio Shack equipment and an Atari 800.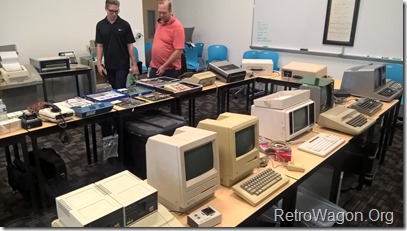 This view shows some of the related items such as slide rules, Abacus, core memory, rotary phones, 8mm film camera.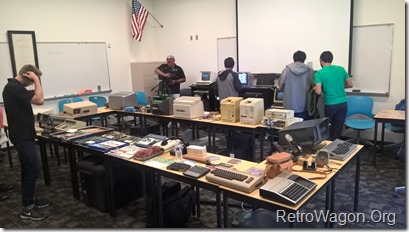 Fun stuff!